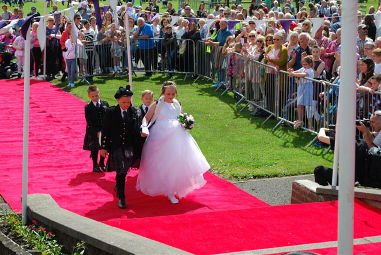 Forth & District Children`s Gala Day. 
----------
We are delighted to announce the 2019 Gala Day Court
Queen:
Lyla Steele
Herald:
Robbie Tindall
Maids:
1st Maid - Chauntelle Miller
2nd Maid - Aimee Struzik
Jenna Nicol, Kahlan Harris, Krystal McLaughlin
Flower Girls P1:
Mirren Hood, Callie Masterson, Cerys Johnstone
Aleshia Miller, Millie Mitchell
Flower Girls P2:
Brooke Lennon, Lily Watson
Page Boys P1:
Frankie McNair, Kai Devine
Page Boys P2:
Alistair Adamson, Aiden Goldie
Escorts:
Mason Finlayson, Daniel Fleming, Aiden Mackie
Reagan Anthony
Crowning Lady:
Mrs Gill Murray MBE
Chairman:
Mr Scott Gallacher
2019 Fundraising Events
Please visit the Fundraising Events Page for all the details
-------
Gala Years 1964-1994 now available as a five dvd set price £30 
--------
A big thank you to all who participated in all the fund raising events.
---------
Anyone wishing to put Gala Day greeting in the 2019 brochure at the cost of £5.00 per greeting
please contact Isobel.