Forth & District Children`s Gala Day 2021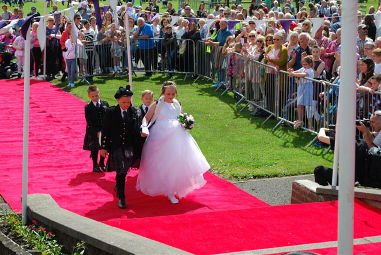 We are delighted to announce 

2021 Forth and District Gala Day Court


Queen:
Ruth Thomson

Herald:
Lucas Steele

  Maids:
1st Maid - Ava McMorran
2nd Maid -  Charley Mackie

Amelia Mason, Chloe McLaren, Katie Kralik, Freya King
Leah Graham, Tiffany Wilson, Marley Graham
Flower Girls :

Charlie Blaney, Eva Green, Lucy Collick, Harley Gibson, 
Katie Storrar, Aleah Thomson, Ruby Younger
Page Boys :
Ryan Kerr, Ethan Evans, Alex Cernat, Jackson Strain

Chairman:

Mr Stuart Smith

Crowning Lady:
 Mrs Aileen Wood (Alexander)
Congratulations to everyone
------
2021 will be the 85th Anniversary of the Gala Day Celebrations, lets make it bigger and better.
And thanks to the everyone involved in fundraising xxx
______
Please visit the Fundraising Events Page for all the details
-------
Gala Years 1964-1994 now available as a five dvd set price £30 
--------
A big thank you to all who participated in all the fund raising events.
---------
Anyone wishing to put Gala Day greeting in the 2021 brochure at the cost of £5.00 per greeting
please contact Isobel.