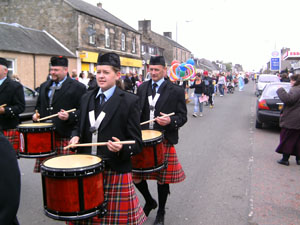 Gala Day Programme.
Saturday 16th June 2018.
-----------
10.00am Judging of Fancy dress, pageants, bogies and cycles, etc. at Sports Centre, all entries must be registered at the Sports  Centre by 9.30am.
Judging of lorries, cars and trailers at Muirlaun.
John Baird Memorial Trophy Best entry in parade.
There are pre-registration forms available to be completed and handed in anytime so no need to wait until Gala morning.
Order Of Parade
11.15 am Parade leaves Sports Centre
Banner carried and escorted by the Boys Brigade
Lanark Pipe band
Fancy Dress
Whitburn Silver Band
Pageants
3rd Johnstone Brigade Band
Decorated Cars and Trailers

Decorated Lorries and Floats
Sambalistic Samba Band
Gala Court
Hawick Scout Pipe Band
Queen of the Heather
Neve Crawford
---------
12.00 noon Crowning Cermony at the White House
---------
12.30 pm Entertainment
Recreation & Leisure Centre Entertainment ( depending on the weather)
LA Funky Faces Face painter & Glitter Tattoos 
Gladiator Duel
Amazing James Magic Show

--------
5.30 pm  Queen's Reception and Concert in Church Hall
Doors open at 5pm Entertainment for the children of the Court
Presentation of the Gallagher Cup for Best Decorated House
Presention of the Carmichael Cup for Best Decorated Shop
Gala Day Raffle will be drawn

Presidents closing Speech
---------